12.3" Camera Monitor System
---
The digital side-view mirror, virtual rear-view mirror, or electronic rear-view mirror is named by ISO standard organization as camera monitor system(CMS). The camera monitor system consists of external digital cameras, internal digital monitors and software processing image. The conventional glass rear mirrors can be replaced by integrated digital camera and digital monitors with better safety and better vision.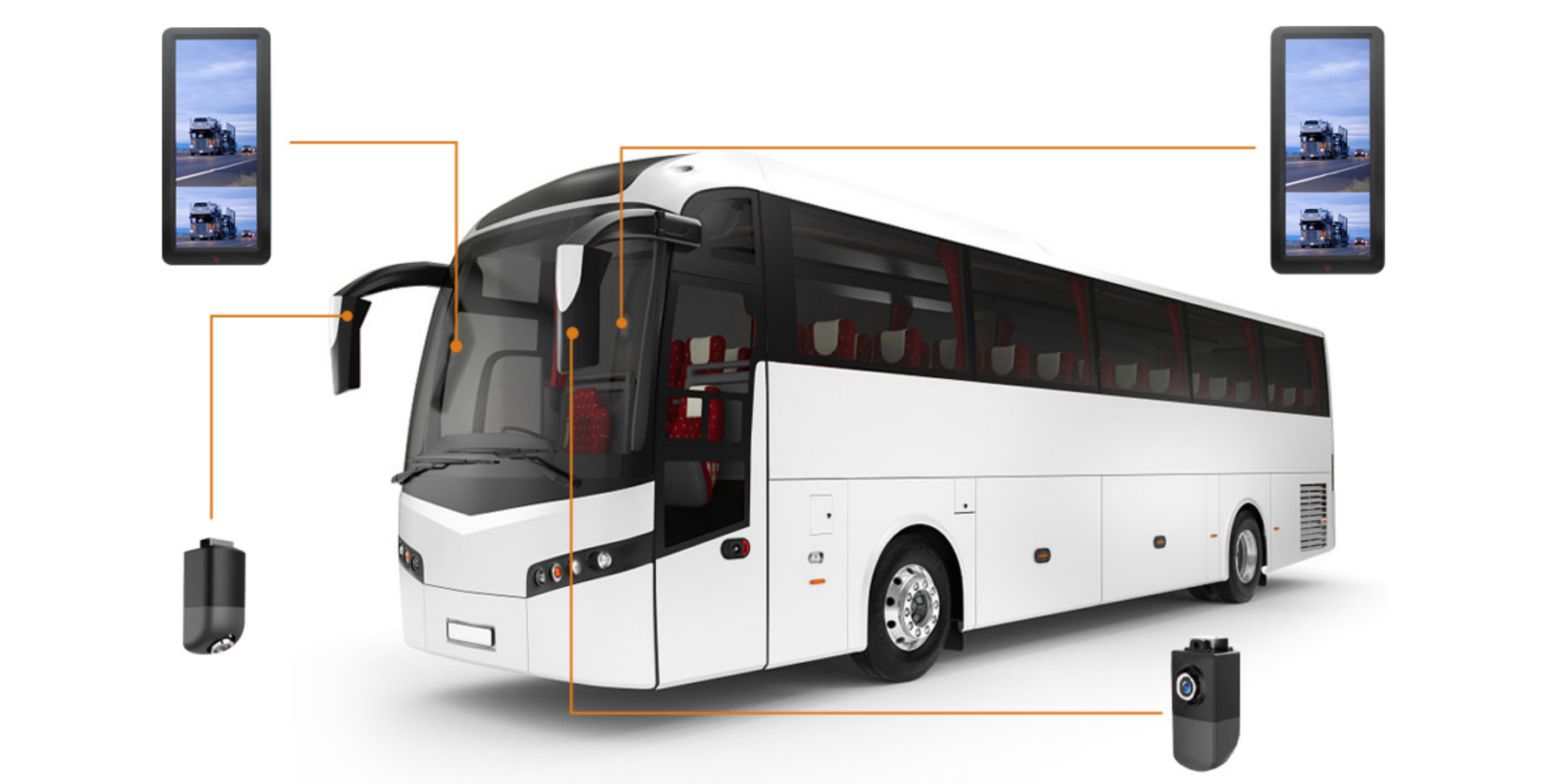 Blind Spot for Traditional View Mirror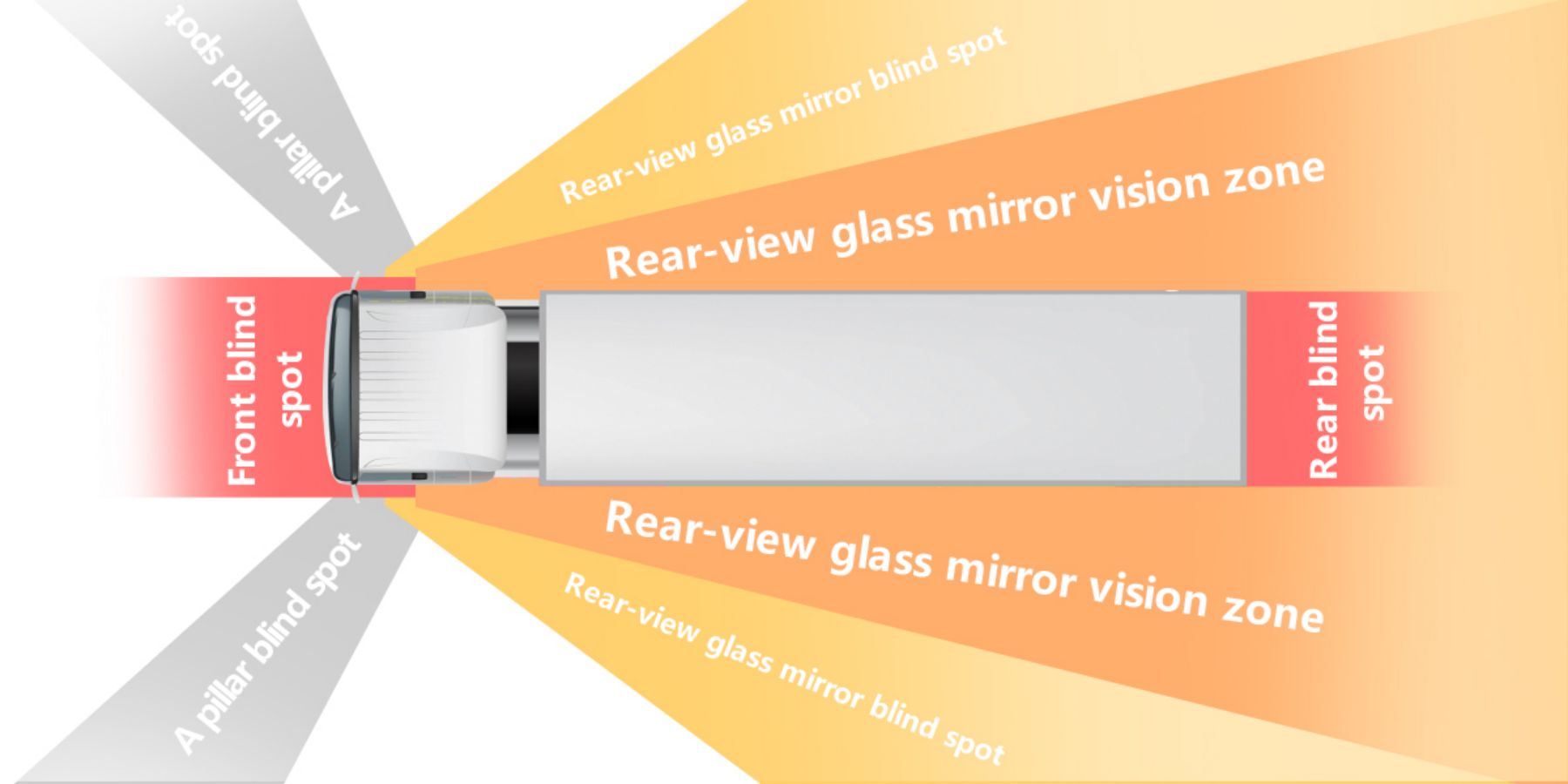 Features of conventional rear view mirror
1) Narrow vision zone and wide blind spots.
Limited by the design of the size and distance,the viewing angle of the traditional rear-view mirror is narrow and it is easy to be blocked by the C/D pillar of the bus/truck or obstructions. It greatly increases the area of the blind spot in the rear vision and makes the driver harder to grasp the road conditions behind the car in time, which is easy to cause traffic accidents such as merging, rubbing and collision.
2)The vision is not clear
The view vision is not clear under special conditions.Under the circumstance of dark night, tunnel driving and stimulation of the high beam of the rear vehicle, the situation of the rear vehicle is not seen clearly. In addition, when encountering bad weather such as rain and snow, fog and haze, the rear windshield is easily covered by water, snow, dust, etc., which makes the rear-view mirror unable to play the role of observing road conditions, and increases the hidden danger to the driver's driving safety.
Camera monitor system generally has a smaller profile camera at the exterior of the vehicle as compared to mirrors and can display their captured images at screens inside the vehicle monitors.Due to the small and light weight external camera design,90% wind resistance has been reduced and 2%-3% fuel consumption would be saved.Additionally, camera monitor system can provide a wider, less obstructed, and more informative view compared to traditional mirrors.
What can camera monitor system do?
After installing the camera monitor system,wide blind spot are eliminated,camera monitor system can effectively solve the blind area of the traditional optical rear-view mirror, hanging water in rainy days and short visibility distance at night, and reduce the hidden danger of safety. It can also provide clear driving vision for drivers in weak light environment at night, strong light reflecting during the day, rain and snow weather, and improve driving safety on the road.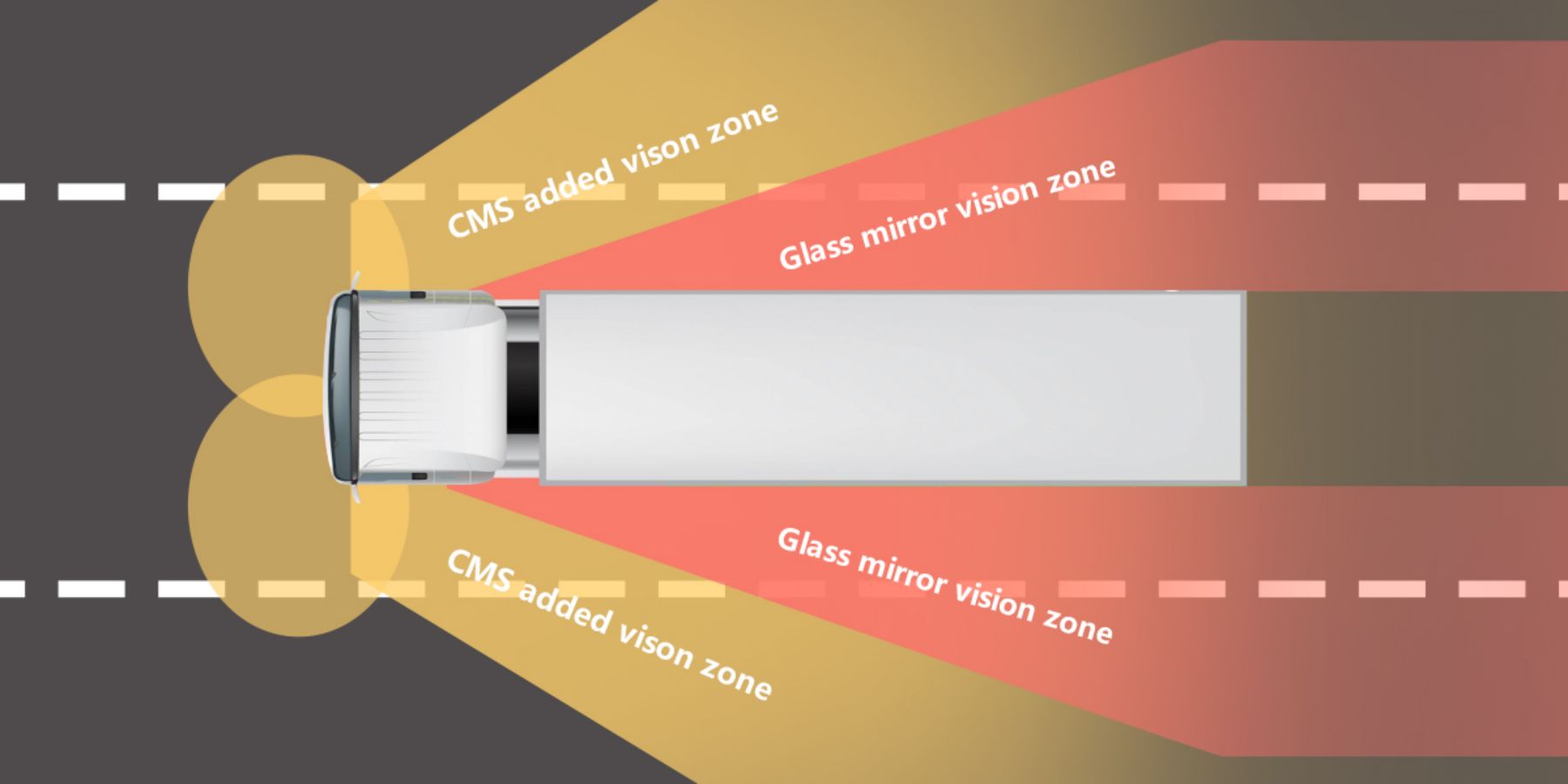 "There are no blind spots anywhere around the truck. And the camera monitor system gives much better clarity and perception in views to the sides and rear of the truck at night and in bad weather." according to the end-users.
Smaller exterior mirrors offer weight savings, improved aerodynamics, and enhanced fuel efficiency.
Worldwide Laws for camera monitor system
1.1 Situation of camera monitor system in China
The content of GB 15084 "Motor Vehicles - Performance and Installation Requirements for Indirect Vision Devices" [3] is based on the requirements and test methods specified in UN-R46 regulations. Therefore, the installation of rear-view mirrors in China is also a mandatory requirement, and CMS is currently not allowed to replace such rear-view mirrors (except for V and VI rear-view mirrors). In 2018, the revision of the GB15084 standard was officially launched in China, and it will be possible to allow CMS to replace traditional rear-view mirrors in China in the near future.
1.2 Camera monitor system in Europe
Europe, as the first region to implement UN ECE regulation No.46(R46) has allowed the usage of CMS to replace traditional rear-view mirrors in 2016. Major vehicle companies have also begun to develop related models. Currently, there are mass-produced models for passenger cars and commercial vehicles.
1.3 The situation of camera monitor system in Japan
Japan makes"1958 Agreement" and has adopted UN-R46 regulations simultaneously. Now camera monitor system are allowed to replace traditional vehicle mirrors.
1.4 Camera monitor system in the United States
The US regulation of FMVSS 111 for indirect vision devices stipulates that vehicles must be equipped with physical rear-view mirrors, and camera monitor system is not yet allowed to replace mirrors. In March 2014, the Alliance of Automakers and Tesla Motors petitioned NHTSA to update FMVSS 111 to bring camera monitor system compliance. Because NHTSA wanted to know about the safety features of the system before allowing camera monitor system, the Alliance of Automakers conducted a safety impact study, which is still ongoing between the Alliance of American Automobile Manufacturers and NHTSA.
Example vehicle equipped with Camera monitor system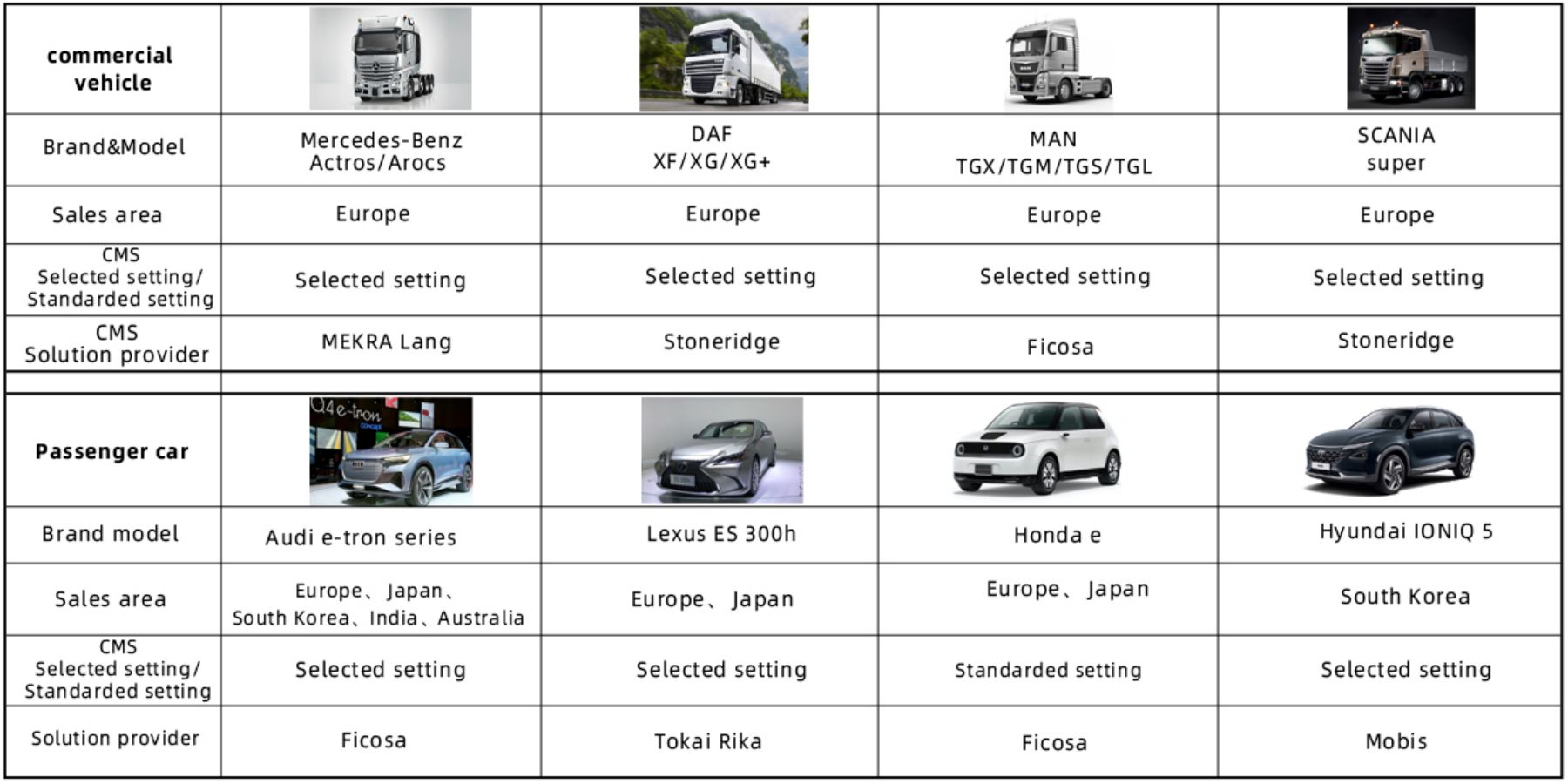 Features of 12.3" CMS from our company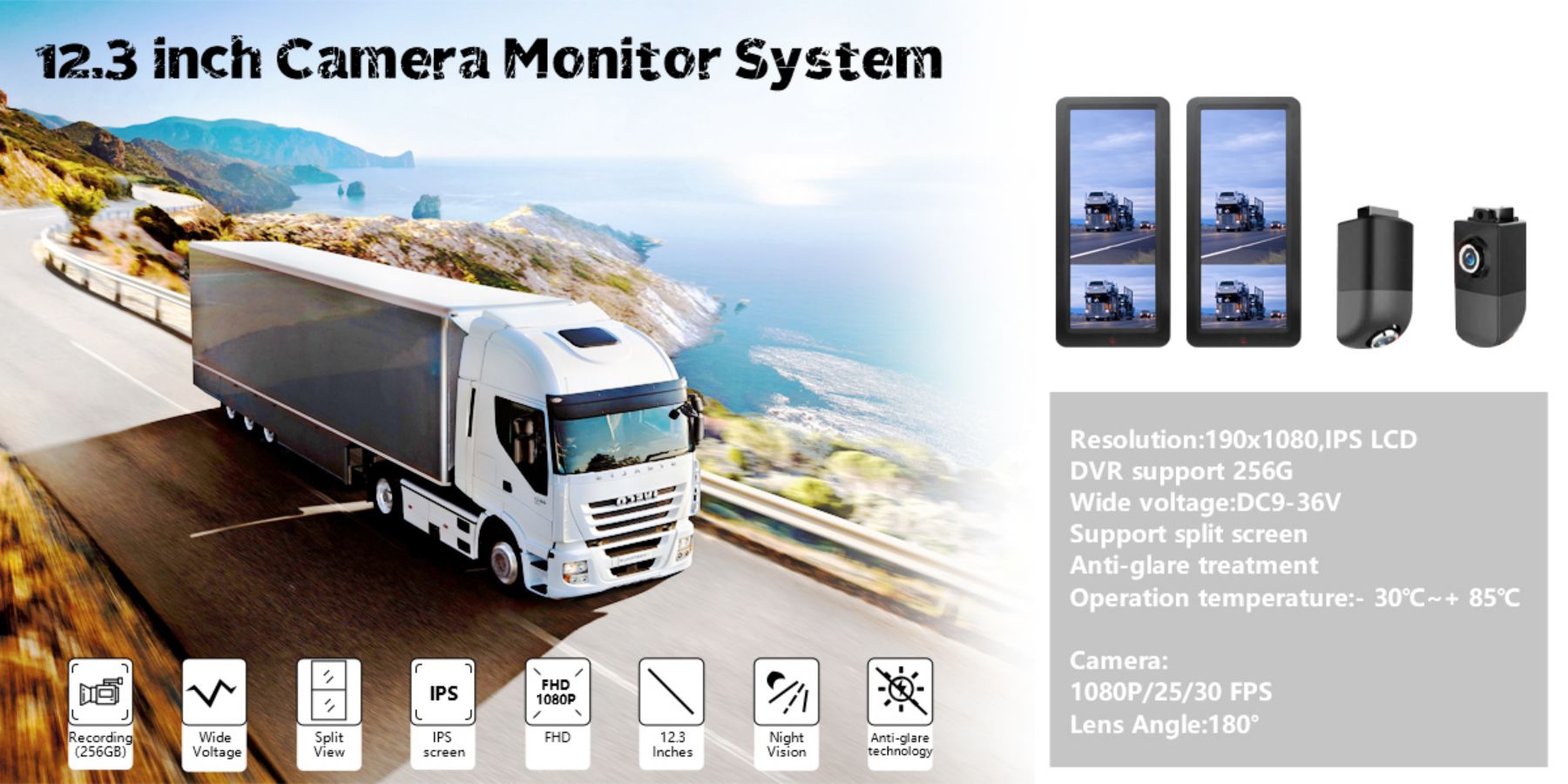 Among current camera monitor in market,12.3 inch camera monitor system is most commonly used in truck.The 12.3 inch camera monitor system has a full set of camera,two 12.3 inch FHD resolution monitor,driver board with storage memory up to 256Gb. Below are the main configuration of our 12.3 inch camera monitor system.
Tyep
Function
Description

Features

Display Resolution
1920x720
Display Ratio
12.3" 8:3 IPS
Display Mode
Potrait display
Video Input Resolution
1920x1080(Max)
Video Input Format
AHD/CVBS adaptive
Video Input Frame Rate
25/30fps, 50-60fps
Mirror Display
Horizontally, Vertically, Horizontally&Vertically, Normal Display
Function
Brightness, Color Saturation, Contrast Ratio
Adjustable
Loop Recording
Support
Reversing Triger Wire Delay
Less than 5S
OSD Language
Simplified Chinese, English
Interfaces
LCD Interface
16bit RGB/LVDS a-Si TFT LCD
Channel
Dual Channel(simultaneous)
Video Input
1.0Vp-p
Audio Interface
PCM
SD Card
Support max.256G
Car Reversing Triger Wire
1xDC5-36V, car reversing trigger in priority
Remote Infrared Control
Built-in receiver
Power Output
2xDC 12V/3A (power for cameras)
Photosensitive CDS
Auto-dimming display
Key Interface
Mutiple control keys(0.1-3.3V)
Backlight Interface
Max power 40V/0.2A
Power Input/ACC
DC9-36V
Performance
Video Resolution
2x1920x1080(dual recording)
Compressed Format
H.264
File Format
TS(datas are autosaved when power is off), MOV
Power Consumption
2.35W(camera and display not included)
Operation Temperature
-30-85℃
Storage Temperature
-40-90℃
Camera configuration:
---

Address:Yufeng Industrial Park, Xitou Village, Minzhi Street, Longhua District, Shenzhen, Guangdong,China,518100

Copyright © Hengcheng Electronics Technolgy.(HK) Co.,Ltd ISO9001,ISO14001,ISO13485,IATF16949 approved TFT LCD manufacturer. ●●●●Your TFT LCD display solution provider!●●●●