Mini LED Display
---
The LCD industry has experienced many technical innovations during the past 50 years, from TN LCD, HTN LCD, STN LCD to TFT LCD and OLED. TFT LCD has been enjoying its spotlight since late 1980s. Now is the turn of OLEDs, which has been widely used in smart watches, smart phones and laptops with its excellent display features. And it seems the next generation display technology would be Mini LED and Micro LED displays. Many major manufacturers have been investing in mini/micro LED displays,foreseeing the promising prospects.
Many manufacturers have started mass production of MINI LED displays, while micro LED technology still requires enormous investment before MP. As you could see in below fig., in which are the specs of a 16 inch mini LED display.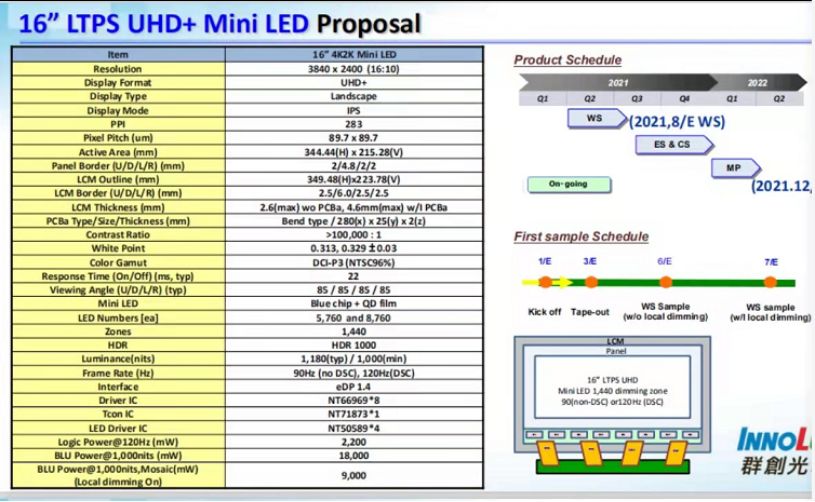 We know how TFT LCD works. The light from backlight module transmits through the TFT panel and several optical films to display images. While mini LED displays just replace the backlight module with tremendous mini LEDs in arrays. The LEDs in a matrix would be a separate unit to control the brightness of its own. In this way, mini LED displays could offer very high contrast ratio and deep black as well as wide color gamut. Another significant advantage of mini LED displays is that it could achieve high brightness more easily, with lower power compared with TFT LCDs. With quantum-dot film, it could achieve the same excellent performance as OLEDs. Furthermore mini LED display avoids the issue of burn-in as OLED display has.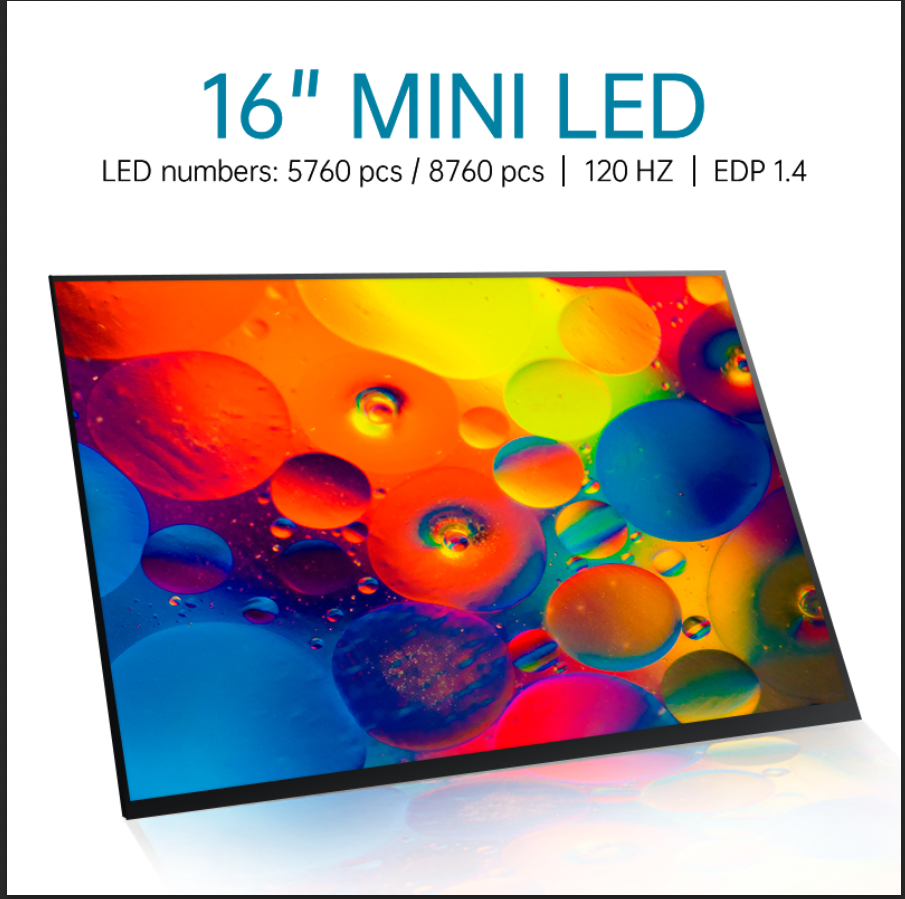 The 16 inch mini LED display features with 4K resolution(3840x2160), thin bezel, contrast ration of 100000:1, wide color gamut, and high brightness. The rich color, wide viewing angle and fast response time make it perfect for E-sports monitor display, high end laptops and automotive displays. Due to the tricky process of mounting thousands of LEDs onto the control circuit, it's quite expensive for the mini LED displays. But comparing with all the improvements mini LED display offers, the price is worth it.
---

Address:Yufeng Industrial Park, Xitou Village, Minzhi Street, Longhua District, Shenzhen, Guangdong,China,518100

Copyright © Hengcheng Electronics Technolgy.(HK) Co.,Ltd ISO9001,ISO14001,ISO13485,IATF16949 approved TFT LCD manufacturer. ●●●●Your TFT LCD display solution provider!●●●●