Camera Monitor System Digital Mirror HTC-CMS
---
Commercial vehicles features with heavy sizes. Even though they are equipped with large side mirrors, there are still blind spot on the two sides of the vehicles for the drivers. When faced with terrible weather or poor road conditions, it would be a great challenge for the drivers. Tens of thousands traffic accidents happened to commercial vehicles, a third of which were caused by blind spot. And a accident of commercial vehicle is often a fatal one due to the heavy load and large inertia. Therefore the safety of commercial vehicle has gained extensive attention worldwide in automotive industry. And technical innovation is the top priority.
In recent years, digital mirrors are gradually starting applying in commercial vehicles, replacing the side mirrors. The digital mirror system is know as CMS(Camera Monitor System). It uses cameras and displays instead of traditional side mirrors. With two interior display monitors and two cameras mounted on either side, the driver of commercial vehicle could fully and fastly capture the situations around the vehicles. And the wide angle cameras covers the whole area in front as well as in the two sides of the vehicle, which the traditional mirror cannot demonstrate. The system improves drivers visual range and reduces the blind spot.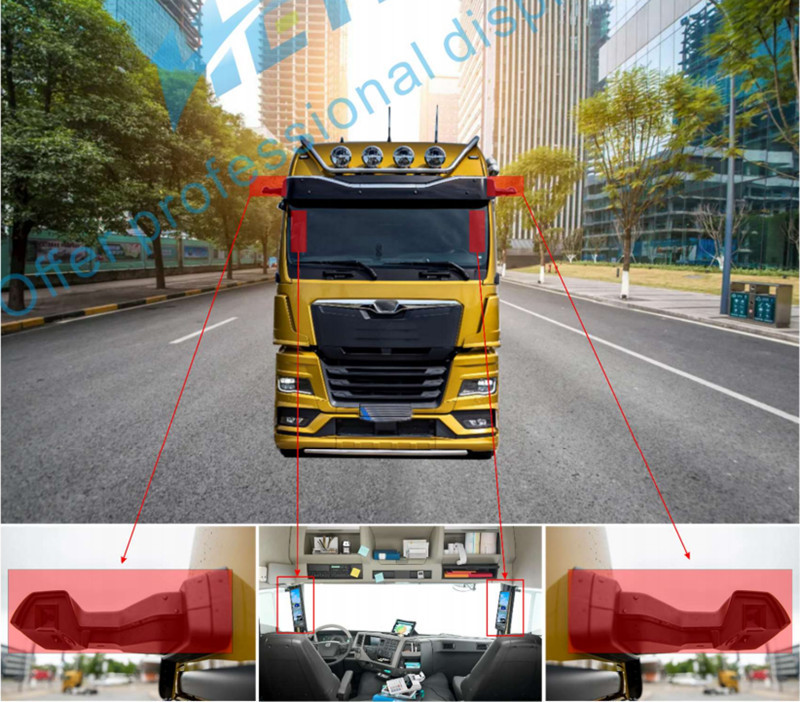 Hetech's HTC-CMS is a 12.3 inch e-side mirror system specially made for commercial vehicles like trucks and agriculture vehicles. It adopts 12.3 inch 1920x720 IPS TFT Color display and high definition wide angle cameras. The two 12.3 inch monitors display what the camera captures in real time, with transmission delay less than 100ms. And the cameras have higher performance than normal automotive cameras in aspects of material, chips, coating technology, anti-vibration etc. The digital rear-view system HTC-CMS also features with blind spot detection and alarm of pedestrian, bicycles, motorcycles, and cars appeared near around. Even in low-light and rainy conditions, the cameras could still work in night vision.
By replacing the side mirrors with camera monitor system, HTC-CMS enables broader field of vision for drivers, reduces the blind spot and aerodynamic drag, which increases the efficient of fuel use. Even in rainy and dark conditions, the drivers have no worries about the blurred mirrors any more.
---

Address:Yufeng Industrial Park, Xitou Village, Minzhi Street, Longhua District, Shenzhen, Guangdong,China,518100

Copyright © Hengcheng Electronics Technolgy.(HK) Co.,Ltd ISO9001,ISO14001,ISO13485,IATF16949 approved TFT LCD manufacturer. ●●●●Your TFT LCD display solution provider!●●●●